News
05.02.21
by Lucie Heath
The largest house builder in the UK has become the first major firm to support the idea of introducing a levy on developers to pay for cladding removal works.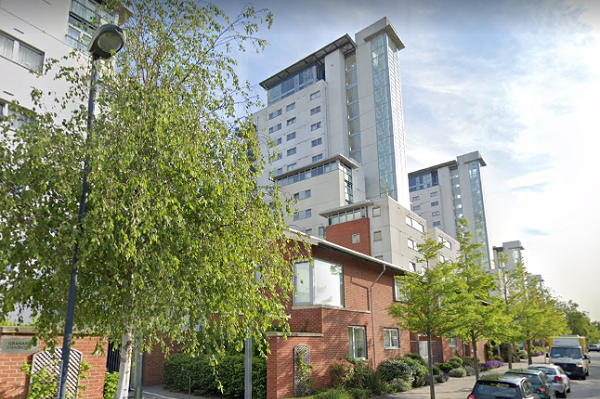 In November Barratt offered to pay for internal fire safety works at Royal Artillery Quay in Woolwich, south-east London (picture: Google Street View)
David Thomas, chief executive of Barratt Developments, said yesterday that house builders have a "collective responsibility to be a part of the solution" to the problem that has left thousands of people across the country trapped in buildings with unsafe cladding, more than three years after the Grenfell Tower fire.
He said that he does not think homeowners should have to pay for cladding to be removed from their buildings, and that Barratt would support "a fair, prospective levy as part of any way of easing the burden on homeowners without threatening the future supply of much-needed new homes".
Leaseholders affected by the cladding scandal have welcomed the move, but said that builders and developers "must not be allowed to get away with token gestures".
A key ask of Inside Housing's End Our Cladding Scandal campaign is that the government provides funding upfront for the replacement of unsafe materials and recovers the costs through a temporary levy on development.
Mr Thomas' comments followed the publishing of the firm's half-year results, which revealed that Barratt had spent £56m fixing construction issues on legacy projects in the second half of 2020.
---
---
The problems were largely related to structural issues discovered during cladding removal work, rather than funding the cladding removal work itself.
The results also showed that Barratt made a before tax profit of £430m, up from £423m in the same period in 2019.
Last month, the building safety minister Lord Greenhalgh supported the idea of introducing a levy on developers to pay for cladding removal works following reports that the government was considering such an idea.
Reports suggest that the government is currently considering two annual levies to raise capital for fire safety work, which include adapting the existing Community Infrastructure Levy and introducing a special 'gateway levy' that would apply to new high-rise flats.
Emma Byrne, a member of the End Our Cladding Scandal campaign, said: "It is encouraging that Barratt has recognised publicly that the construction industry has a responsibility to address its part in what is an enormous building safety scandal.
"It is gravely unfair that, at a time when developers are declaring record sales and huge profits, usually boosted by taxpayer-backed schemes, leaseholders, the only truly innocent party in this crisis, are being hit with bills running into the tens of thousands of pounds – bills they cannot even begin to afford.
"However, the devil, as always, is in the detail. A levy is long overdue and must reflect the decades of malpractice.
"Builders and developers must not be allowed to get away with token gestures. They must contribute properly and fairly to the projected £15bn-plus costs of fixing serious building safety defects. Leaseholders should not pay a penny."