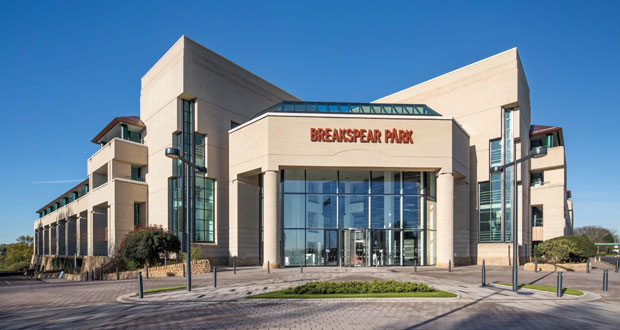 Breakspear Park in Hertfordshire has awarded The Balanced Food Co. a two-year contract to provide catering services across its multi-tenanted office site which stretches over 300,000 sq. ft., featuring four storeys of open space, with a central atrium.
The deal will see The Balanced Food Co. provide an artisanal cafe, offering both full-service catering and grab and go options. Post lockdown, full restaurant service will commence for the building's 1,300 inhabitants.
The contract comes as part of a collaboration between Breakspear Park and food and FM consultancy, Neller Davies.
The consultancy worked with Breakspear Park to identify a catering solution which will increase participation through better value, quality and service and encourage better wellbeing from a bespoke fresh food offer.
Neller Davies developed a contractual structure to ensure both risk and commercial benefits are shared equally across the lifecycle of the deal. The solution is based on a highly collaborative business relationship in which both parties are equally committed to each other's success. The end result is expected to be improved service, reduced costs and added value for both parties.
Julian Fris, Director, Neller Davies said: "The team at Breakspear were keen to introduce an offer which provides good value food and service, and a collaborative approach to success. Balanced Food Co have already demonstrated their commitment to this by significantly increasing output at the site."
Fay Hewing, Breakspear Facilities Manager added: 'The catering offer at Breakspear Park is extremely important for our occupiers working at the park. Our customers want to feel that they are able to get something different from the normal contract catering offer, which still offers good value for money and great taste. Balanced Food Co have provided us with an offer that meets this expectation and we look forward to expanding this in 2021 with them.'"
The Balanced Food Co. is headed up by Ian Summers, who has trained as a chef in some of Europe's major hotels and restaurants before moving into senior management positions and directorships, and Mark McCann, who has built an extensive track record in hospitality management for over 30 years.
Speaking about the contract award, Summers said: "We are delighted to be partnering with the team at Breakspear Park. To work with an organisation who recognises the importance of nutritious great tasting food enables us to really showcase our food philosophy and engage with our customers in different way. Exciting times ahead for 2021."