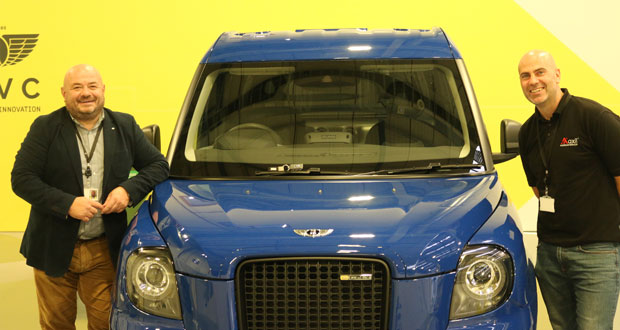 Axil Integrated Services has won a major partnership with the firm behind London's famous black taxicabs.
The total waste management firm manages commercial waste for some of the country's biggest brands and has begun a three-year contract to manage the waste from LEVC's (London Electric Vehicle Company) new headquarters in Coventry.
Axil negotiated the contract during lockdown and started working with LEVC this month to help the environmentally conscious company increase its recycling and work towards achieving its zero to landfill ambition.
Grace Oldham, Head of Business Development at Axil said: "We are very proud to have been chosen to deliver waste management services for LEVC at its Coventry base, and excited to be working with them on the next stage of their waste journey. LEVC is a leading global manufacturer and retailer of purpose-built commercial electric vehicles and its new headquarters is 37,000 sqm and produces 20,000 units a year.
"We have exciting plans in place to boost their recycling rates and are looking to remove up to 30 per cent of their general waste tonnage. We are introducing more efficient equipment to segregate waste streams as part of our efforts to help LEVC move towards its ambition of becoming a zero to landfill company."
Axil will also deliver training to encourage LEVC staff to engage with the new waste initiatives, and will help to educate staff about the importance of waste segregation. Improved signage will be installed across the site to help with this objective.
Webinar – Prioritising wellbeing in a Covid-secure workplace
FMJ has teamed up with Zip Water, creator of award-winning sustainable drinking water systems, to discuss the ways in which FMs can safeguard the provision of essential amenities within the workplace as we emerge into a new era of touch-free, socially distanced offices.
During the event, which will feature a panel of leading FMs and an FM services provider, we will discuss how FM professionals, office managers and HR managers can balance the need to manage shared spaces, such as staff kitchens, while maintaining a safe environment and meeting energy and waste reduction targets. This will include a look at some of the latest touch-free technologies; including apps to manage workflow and hands-free automation (e.g. automatic doors, taps etc).
Join us on Wednesday 25th November at 11:00am for an event which will address the ways FMs can meet their commitment to ensure the wellbeing of people as an integral part of their sustainability remit.
To register for the webinar please click here.