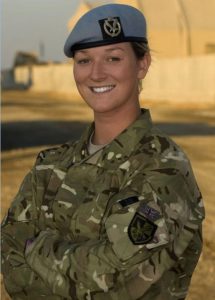 Holly Ferneyhough, Business Support Manager at Atalian Servest has been awarded Rising Star of the Year at the Ex-Forces Business Awards, 2021, which took place in person at the O2 Arena on 23 June.
The Ex-Forces in Business Awards is the world's largest celebration of ex-military in second careers – recognising the value veterans add to businesses as well as the employers that support the transition of servicemen and women.
Ferneyhough, who was among 10 shortlisted candidates won the award due to her rapid-post-military career progression, showing "unrivalled leadership skills and commitment to business results".
Ferneyhough served in the Army Air Corps for eight years as a Groundcrew Specialist. During this time, she safely completed two operational tours of Afghanistan and travelled on several expeditions worldwide. Joining Atalian Servest in 2016, she has progressed from Executive Assistant to Business Support Manager, responsible for research, data accuracy and business growth.
The Rising Star of the Year Award was presented to Ferneyhough due to the judges being impressed by her securing a position as an executive assistant for her first 'foot-in-the-door' job, and then quickly proving her worth and being promoted to management level. The judges commended her for aligning herself with a company that mirrors her growth values and having the positive mindset that anything is possible.
Ben Rossi, founder of the Ex-Forces in Business Awards, said: "The judges noted that Holly clearly not only adds value to everything she does but also always adds something extra. In an incredibly high field of Rising Stars, Holly pipped victory for the breadth of her impact and the value she offers."
Speaking about her award, Ferneyhough, said: "It feels very surreal to have won the Rising Star of the Year Award. I wouldn't have imagined when I left the Army in 2015 that I would win an award for my move to a commercial career. Working for a global organisation that supports ex-military personnel has been instrumental in my growth and success. While I am incredibly proud of all my achievements to date, the award has shown me that anything is possible. I want to continue to make the most of every opportunity and to progress even further."
Matt Chapman, Chief Marketing & Development Officer at Atalian Servest added: "We have always recognised the tremendous value that the Armed Forces community brings to our business. Holly has an incredible success story to celebrate. She has really maximised the opportunities that have been available to her and has shaped her own platform for growth.
"She's made a significant contribution to Atalian Servest in managing data, developing thought leaders and championed our D&I platform. This will continue to positively impact the lives and careers of employees from management to front line security, cleaning, catering and engineering colleagues. We are proud to have Holly as part of our team."