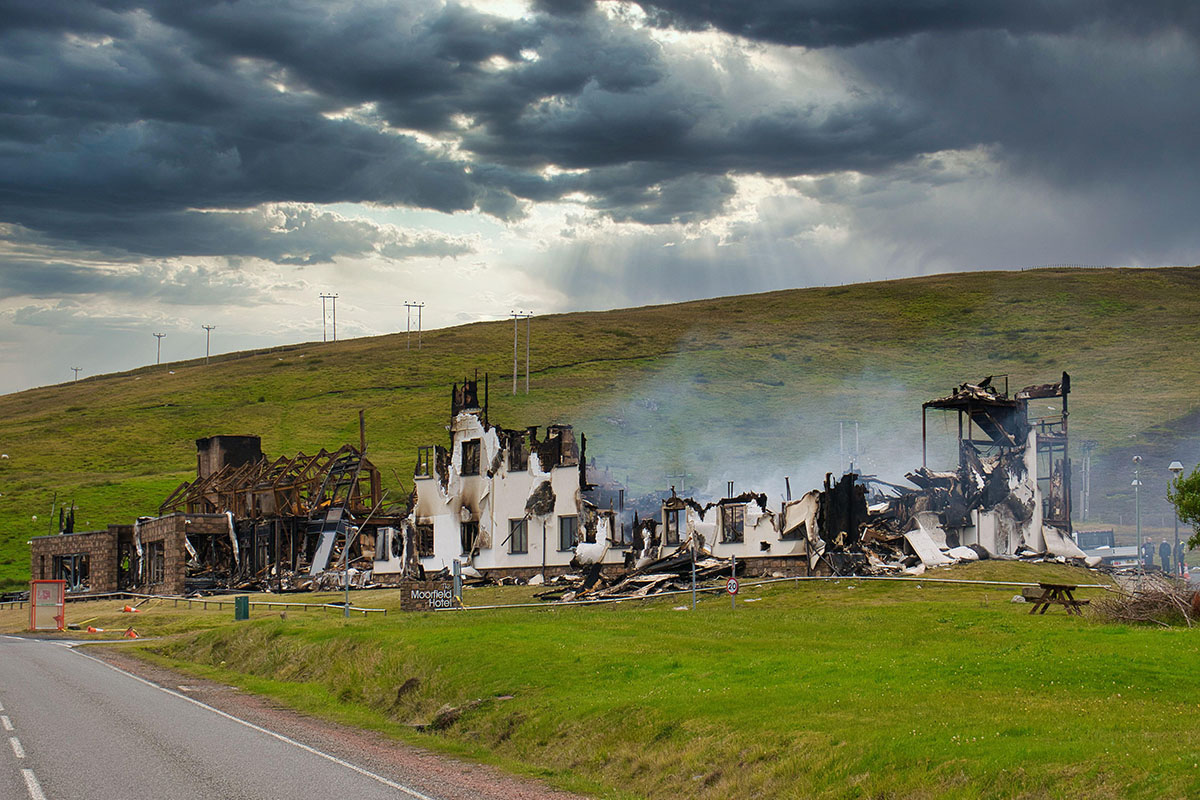 The Moorfield Hotel after the fire (picture: Martyn Neeson)
Ian Abley, technical designer and fire safety expert, adds: "The nature of a modular building is that you are stacking boxes on top of each other, and once you've stacked them up you are often left with gaps between them. Those cavities can potentially run straight through from the facade to the core of the building. When fire gets into the cavity if you've got modules made from combustible materials, the fire is just going to spread from one compartment to the next."
Building regulations require these cavities to be fitted with barriers so fire cannot spread. But achieving this in the design and then assuring it is achieved when the modules are installed on site is a big problem.
"Intumescent cavity barriers don't last 50 years. The products don't exist. That's where the innovation needs to be," Mr Abley says.
Mr Curtis says that constructing the necessary barriers is not beyond the industry, but ensuring they are properly installed is the challenge.
"You can make a very accurately engineered section in a factory environment. This is not beyond the wit of man," he says. "But you need to skill up the people who are going to be doing it on site. The corners which have been cut in traditional construction can't afford to be for modular. The implications are more disastrous in this form of construction."
Many modular developers do take quality seriously – keenly aware of the lingering consumer suspiscion that is associated with 'prefabricated' homes.
A promotional video describing the construction of the Moorfield Hotel
Many have secured warranties specifically assuring the quality of their products and the Build Offsite Property Assurance Scheme offers certification that the buildings are constructed to a standard that will last 60 years. A recent Memorandum of Understanding between various warranty providers set a minimum standard for assessing modular buildings, which should help maintain consistent standards in the nascent industry.
The industry argues its buildings are fire safe, so long as they are built and maintained properly. They are also required – like all developers – to comply with building regulations.
But do regulations – written with traditional building in mind – properly reflect the challenges of modular?
He said that this requires better oversight of what is happening on site and reform of building regulations to make them more applicable to modular building. "It's just not a straight read across," he says. "You need regulations that are directly applicable. As a construction sector we have the turning circle of an ocean liner and we need to learn to walk before we run with this technology."
Dr Hadden believes these are issues that can be fixed. "We spend our lives surrounded by products we have deemed safe enough. You can make it [modular] safe if you invest in the R&D – you need destructive testing to see where the flaws are and to fix them," he says.
The problem is buildings are going up without this work being done, and by the same construction sector which has shown a poor track record for safety and quality in recent years. The country is scrambling to deal with the enormous fall-out of this with regards to Grenfell Tower, and the thousands of other properties around the country with dangerous external walls.
Everyone walked out of The Moorfield Hotel alive and the Fair Isle bird observatory did not have guests on the morning of the fire. The warden and his family who lived there all year round were at church when the fire broke out and smoke was spotted by a passing ferry. Both fires were non-fatal. But similar technology is being used to build schools and high rises, with limited escape stairs and no fire alarms.
"A two-storey hotel where everyone is going to get a heads-up is one thing, but if you turn it vertically and it's a building with a sleeping risk it's a different thing," Mr Abley says. "We are building big towers using these construction methods. The industry is going to come to a crashing halt if the first fire comes about."
And that is an outcome the entire sector will want to avoid.