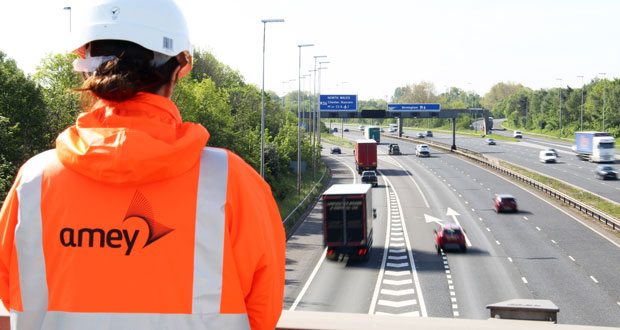 Yesterday saw over 150 new employees join Amey's Secure Infrastructure business, as part of a five-year facilities management contract awarded by Highways England.
The £40 million contract sees Amey providing maintenance, cleaning, project and asset management across 41 Highways England sites.
The Amey team will have responsibility for maintaining sites that ensure the safe running of the highways network across England, such as regional operational centres, traffic officer outstations and highway maintenance depots. These require regular maintenance to ensure this vital public service is kept running 24/7.
The new contract will create 12 new roles and, in line with Amey's social value commitment, will be delivered in partnership with a supply chain made up of local SMEs, as well as using sustainable and environmentally friendly cleaning solutions.
Amey is also introducing a number of digital solutions to help Highways England to optimise their assets.
The 'Concept' CAFM solution provided by FSI will give Amey and Highways England real-time access to the latest information – enabling continuous improvement in services, faster responses and better decision-making.

A bespoke SMS text and online platform will allow Highways England employees and building users to quickly contact Amey's customer service centre to report any potential issues or repairs on-site.
Andy Voase, Director of FM, Amey Secure Infrastructure, said: "I'm delighted to welcome over 150 employees to Amey who have started work on our new Highways England Total Facilities Management contract. Every day, Highways England, their people and supply chain play a critical role in ensuring the road network across England is kept safe and operational for the millions of people and businesses who rely on it. So, a well-maintained estate is vital to their work and employee safety and wellbeing.
"We look forward to building a strong partnership which will see our dedicated team delivering operational excellence, evidenced through: live management information linked to asset history, improved sustainability and social value, our commitment to investing in our people, and looking at ways to work more efficiently and safely."
Amey has extensive experience delivering facilities and estate management across the critical infrastructure and public services on which the country relies. This new contract builds on Amey's Secure Infrastructure portfolio, which looks after thousands of assets on behalf of the Ministry of Defence, Ministry of Justice and over 200 schools across the UK.