News
16.03.21
by Jack Simpson
A London-based airspace developer has launched a new £100m funding facility that can be accessed by housing associations and councils to deliver homes for key workers on top of existing buildings, Inside Housing can reveal.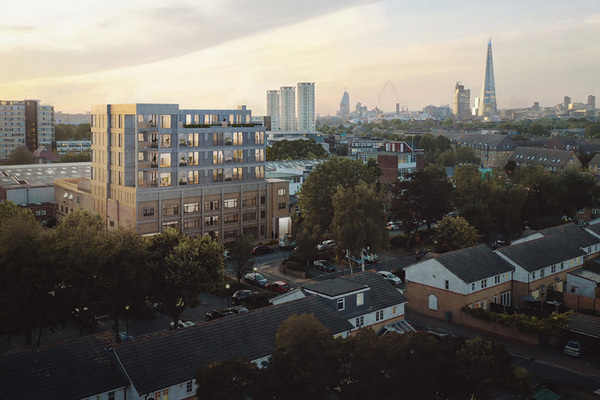 Skyroom, which is currently delivering airspace projects in the capital, has now launched its Key Worker Homes Fund, which will provide early-stage development finance to social landlords looking to push forward with building on top of their existing stock.
The developments will need to be primarily for key worker homes and buildings suitable for the fund will be those in Greater London, those that are not Grade I or Grade II listed, have a flat roof and are owned by the applicant.
The funding will also come with Skyroom's technical consultancy and expertise to plan and deliver the airspace homes.
The £100m was raised by Skyroom last year, with all funding coming from a UK-based real estate investment trust (REIT).
---
---
Skyroom launched in 2018 to address the housing crisis in London, and plans to build new homes on top of existing buildings exclusively for key workers to buy or rent below market rates. It has a target of delivering 10,000 airspace homes by 2030.
In November, it secured planning permission for one of its first projects, with the developer set to deliver 15 flats across four additional storeys on a block in Bermondsey, south London.
The Key Worker Homes Fund will be overseen by a board of commissioners made up of sector specialists, including former Lewisham mayor Sir Steve Bullock and Baroness Doreen Lawrence, who will review and judge feasibility studies for applications. The list of commissioners is as follows:
Claire Bennie, founding director, Municipal
Sir Steve Bullock, chair, Housing & Finance Institute
Judith Everett, chief operating officer, The Crown Estate
Dominic Grace, head of London residential development, Savills
Paul Holmes MP
Baroness Lawrence of Clarendon, Labour peer
Professor Sadie Morgan OBE, director, dRMM
Marc Sansom, director, SALUS Global Knowledge Exchange
Rory Sutherland, vice-chair, Ogilvy
The application window will close on 16 April, with successful applicants expected to be announced in September.
The fund comes as the popularity of airspace development as a means of helping to fix the housing crisis has grown in recent years. Last year Apex Airspace and Lambeth and Southwark Housing Association secured planning permission to build 30 airspace homes on top of a building in Bermondsey, while Newham Council agreed a plan in December that would see hundreds of affordable homes built on the rooftops of existing council-owned blocks in the borough.
Arthur Kay, chair of the Key Worker Homes Fund, said: "We want to help turn London into a city where key workers are locals in the communities they support, and the mayor's recent policy announcement is a clear call to action to prioritise their needs through housing delivery.
"The £100m Key Worker Homes Fund gives local authorities and housing associations a timely opportunity to investigate, and then realise, the value of the airspace above their existing properties and supplement their ambitious development programmes. We are inviting applications to the Key Worker Homes Fund until 16 April."
Baroness Lawrence said: "London is a dynamic and diverse city, and we must put measures in place it keep it that way, particularly as we emerge from the pandemic. Rebalancing the mix of those that have access to homes in London's central boroughs with the Key Worker Homes Fund is an inspiring idea. I look forward to judging the applications."