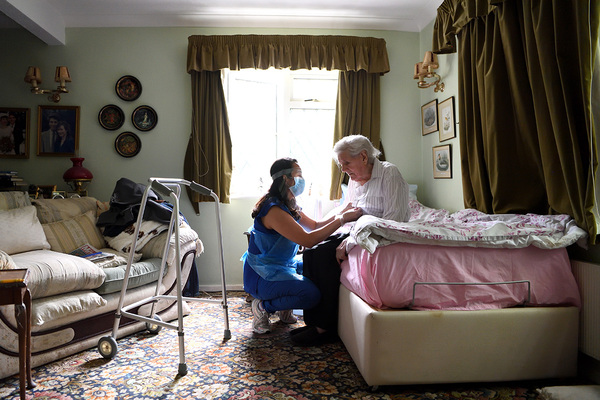 Mr Hughes is confident that the demand for extra-care housing will continue in the future. "Extra care has increased in popularity in recent times," he explains. "You have the independence of your own home, with the security of on-site care should you need it."
He is more concerned that the care arm of ClwydAlyn and the wider sector will suffer due to a combination of increasing costs and not knowing how long the impact of COVID-19 will last.
The future of funding, particularly for staff costs, is also a cause for concern for Mark Carter, director of care and support at Hightown, which provides support for vulnerable adults across 7,000 homes.
Like much of the care sector, Hightown had a large number of staff vacancies before the pandemic. According to analysis from The King's Fund, there were 122,000 unfilled vacancies across social care before March 2020. Hightown has been able to attract more staff as people were made redundant from struggling sectors, such as hospitality. As Mr Carter explains, the care sector offers stability, because "come what may, it's evident that you've still got to care for people".
But a combination of low pay and a real-terms decrease in local authority funding means it is uncertain whether those staffing levels will continue. There is concern that, should the economy restabilise in 2021, with people returning to better paid jobs in hospitality or retail, the care sector "might lose a lot of people again and that would be upsetting to see", says Mr Carter.
While ever more people need care and support, employment growth in the sector has stalled since 2014, with care workers' pay increasing at a slower rate than for workers in other industries.
Mr Carter says: "Pandemic aside, there's been a long-running scaling back of budgets and finances over the past seven years or so. The money available to commissioners, county councils and local authorities for housing providers with a care arm has not kept pace in any way with the national minimum wage."
This is causing a squeeze: the need for care has increased, the number of vacancies has increased, but wages and available funding have failed to match this.
"It's very hard to recruit at the level of funding we have," Mr Carter says. "We did have high vacancies until the pandemic hit and we could easily go back to that."
Mr Carter recognises and is grateful for additional funding made available by the Treasury to help Hightown and other care providers through the pandemic. But the future remains uncertain.
He says: "There's no confidence whatsoever that there is going to be that money next year. We are going to get really squeezed if the national minimum wage increases but care funding doesn't."