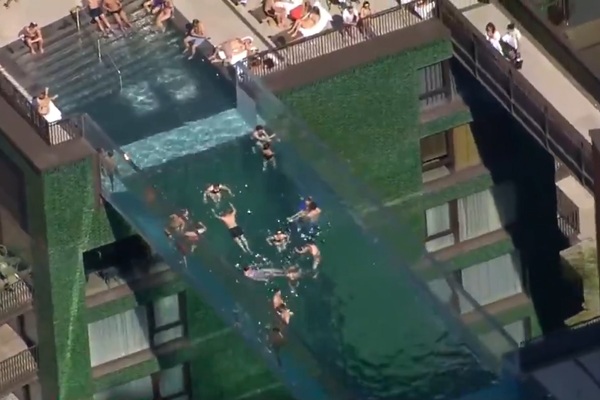 A spokesperson for Peabody said: "Decisions taken at handover were to protect people from high costs and keep service charges low, not for any other reason.
"We understand that some shared owners may like to pay for a concierge and other amenities at Embassy Gardens.
"Unfortunately, a bespoke opt-in service charge system where some individuals pay for some amenities but not for others would be difficult to administer.
"It wasn't agreed at the outset with the developer and would be challenging to accurately apportion costs in that scenario. There would also be logistical challenges with residents receiving different services in the same block.
"However, if anyone feels they are not getting an appropriate level of service, we would encourage them to contact us directly so we can take it up with the freeholder and managing agent and seek solutions on their behalf."
In a statement, Optivo said: "When we purchased the blocks, we told Ballymore we wouldn't buy into these additional services as these are affordable homes and it's important we keep our service charge as low as possible.
"As a charitable housing association, ensuring our homes are affordable for our residents is a top priority."
It added: "We're always clear with residents from the beginning what services and facilities are available in their block.
"We do everything we can to provide a high-quality service to our residents at Embassy Gardens."
A spokesperson for Ballymore said: "We aim to create great places and positive experiences for all our residents.
"All residents at Embassy Gardens receive the same service in terms of estate management, security, fire command and control, general building safety and energy supply.
"However, Peabody and Optivo own and manage the shared ownership properties. Prior to construction, both had the option to choose the facilities they wanted to buy into for their residents.
"To ensure a lower service charge, Peabody and Optivo opted out of access to the health club, cinema, pools, business centre, lounges, concierge and post room."
At a recent London Assembly meeting, deputy mayor for planning Jules Pipe said City Hall's position is that affordable residents should have the right to opt in to facilities such as swimming pools and gyms.
Wandsworth Council also said that it has "always encouraged" housing associations to provide an opt-in option and that it has tried to address the issue of residents having no choice over some charges through its planning policies.
A spokesperson for the council added: "It is also not unusual for the council to take up resident issues with the quality of services as has been the case on a number of occasions with this development."