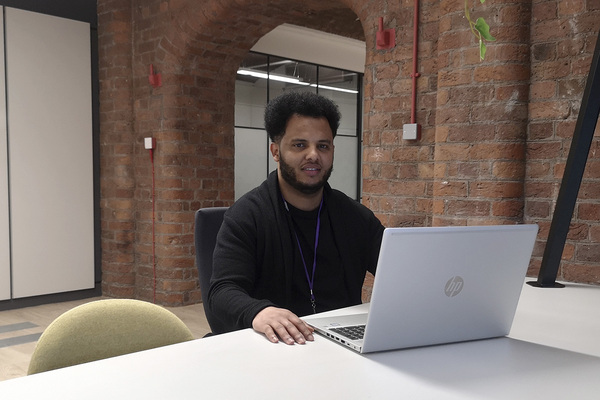 Our 'A week in the life…' series features housing professionals talking through what they do in their job on a day-to-day basis.
Find out about the different challenges housing workers in a variety of roles face in a given week.
We aim to feature staff from housing associations, ALMOs, local authorities and more.
Click here to nominate yourself or a colleague for inclusion
A week in the life of… a director of new business – featuring Purnima Wilkinson at EMH
A week in the life of… a head of corporate responsibility – featuring Helen Sheen at Morgan Sindall Property Services
A week in the life of… a tenancy sustainment officer – featuring Gina Bale at PA Housing
A week in the life of… a gardener trainer – featuring Rubyjo Narbey at St Mungo's
A week in the life of… an area service manager – featuring Rilwan Bello at Look Ahead
A week in the life of… a community housing co-ordinator – featuring Alan Davies at Adra
A week in the life of… a community connector manager – featuring Anthony Morrow at Sanctuary
A week in the life of… janitor team leader – featuring Lesley Skinner at Saffron Housing
A week in the life of… a community support officer – featuring Patrick Fleischer-Annang at Newlon Housing Trust
A week in the life of… a housing services manager – featuring Pauline Codjoe at Anchor Hanover
A week in the life of… a supported housing and tenancy support officer – featuring Kathleen Hughes at Adra
A week in the life of… a strategy and improvement manager – featuring Gill Donoghue at Caledonia Housing Association
A week in the life of… a helpline advice worker – featuring Laura Bell at Centrepoint
A week in the life of… a housing officer – featuring Debbie-Ann Ellis at LiveWest
A week in the life of… a business improvement manager – featuring Lisa Earle at Peaks & Plains Housing Trust
A week in the life of… a senior tenancy management officer – featuring Jubeen Ashraf at Oxford City Council
A week in the life of… a data compliance and reporting officer – featuring Dipak Umeria at Catalyst
A week in the life of… a StreetLink phone line leader – featuring Aneira ap Rees
A week in the life of… a press and external affairs assistant – featuring Mariam Colley at Abri
A week in the life of… a special occupational therapist – featuring Klaudia Lacina at Home Group
A week in the life of… a director of finance – featuring Kal Kay at Great Places
A week in the life of… an asset compliance co-ordinator – featuring Clarizza Murray at Poplar Harca
A week in the life of… a senior team manager (homelessness and prevention) – featuring Hussein Hall at One Housing
A week in the life of… a housing association interior designer – featuring Sarah Syson at Claremont
A week in the life of… an assistant director of housing – featuring Evonne Hudson at Havering Council
A week in the life of… a placemaking and partnerships manager – featuring Eric Hodges at Orbit
A week in the life of… a voids planner – featuring Pauline Swyer at Jigsaw Homes
A week in the life of… an income advisor – featuring Farrah Lea at Cross Keys Homes
A week in the life of… a neighbourhood fundraiser – featuring Alan Crawford at The Pioneer Group
A week in the life of… a gas engineer – featuring Ian Lewis at Thrive Homes
A week in the life of… a debt and benefits advisor – featuring Dave Small at Greatwell Homes
A week in the life of… an employer engagement officer – featuring Nikki Kaur at WHG
A week in the life of… a head of development delivery – featuring Adunni Adams at Catalyst
A week in the life of… a scheme services co-ordinator – featuring Hannah Seal at Southern 360
A week in the life of… a Syrian refugee resettlement programme co-ordinator – featuring Yasmin Kamal-Jones at Isle of Anglesey County Council
A week in the life of… a facilities manager – featuring Vishal Pandya at Raven Housing Trust
A week in the life of… a welfare benefits advisor – featuring Korrina Isaac-Smith at Phoenix Community Housing
A week in the life of… a neighbourhood officer – featuring Jan Kennedy at Aster Group
A week in the life of… a development project manager – featuring James Mabaudi at Vale of Aylesbury Housing Trust
A week in the life of… a property manager in a shared block – featuring Sarah Armstrong at HYELM
A week in the life of… a mobile telecare responder – featuring Danielle Heapy at Johnnie Johnson Housing
A week in the life of… a care and support worker – featuring Neil Vaughan at MTVH
A week in the life of…a planner team leader – featuring Samantha Wright at CHP
A week in the life of… a support worker – featuring Dawn Carpenter at Southern Housing Group
A week in the life of… a housing officer – featuring Dean Vinter at Broadacres
A week in the life of… a team of carers at Housing Plus
A week in the life of… a community partner – featuring Kayleigh Dorricott at Radian
A week in the life of… a hostel support worker – featuring Mandy Walker at Onward
A week in the life of… a senior lettings officer – featuring Karen Vaquer at Hightown
A week in the life of… an enforcement officer – featuring Joanne Freeman at Gentoo
A week in the life of… a caretaker – featuring Ron Jackman at Clarion Housing
A week in the life of… a redeployed tenant participation worker – featuring Rab Clark at Fife Council
A week in the life of… a voids and allocations officer – featuring Emma Elston at Mid Devon District Council
A week in the life of… a housing officer – featuring Raj Garcha at Sanctuary
A week in the life of… a development manager – featuring Deborah O'Shaughnessy at Alpha Living's Bedford Court in the Wirral
A week in the life of… a senior visiting officer – featuring Bev Kirmond at WDH
A week in the life of… a debt advisor – featuring Dan Bebbington at The Wrekin Housing Group