Insight
23.12.20
by Chaminda Jayanetti
Colne Housing and Greenfields Community Housing recently merged to form Eastlight Community Homes. Chaminda Jayanetti speaks to chief executive Emma Palmer about merging during a pandemic, listening to tenants and plans for Christmas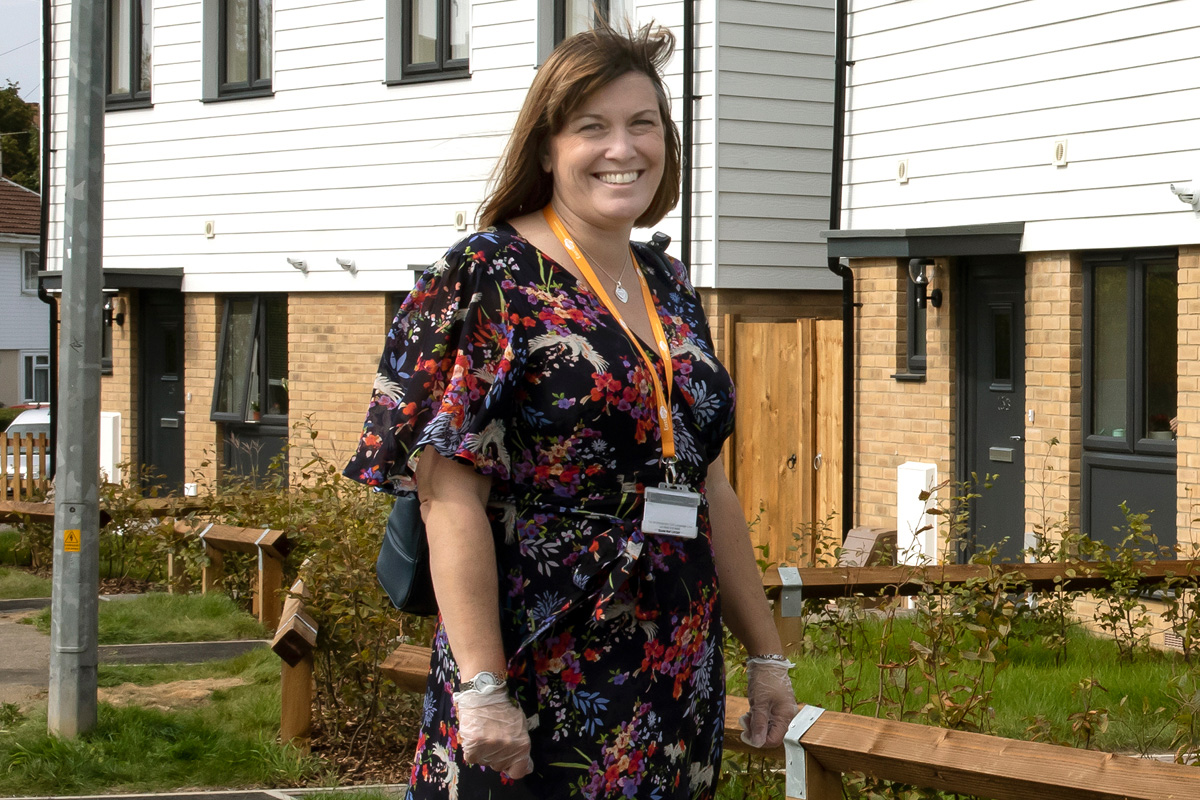 How has the merger been going?
Obviously it's been entirely unusual circumstances in which to experience a merger anyway, on the basis that we've had to bring together two organisations virtually.
So from our perspective, we thought really hard about how we can bring two groups of staff together that haven't actually been able to meet each other personally. So we've tried some different and innovative things – we've had all-staff Q&A sessions via Zoom, which worked really well.
While we were concerned about visibility and people coming together, actually it's worked really well. So in terms of building one organisation and its culture, while we've had an eye on the fact that we haven't been able to do that in the traditional way, it's been successful.
So we're now at that place where we're looking to consolidate and integrate – so integration of systems and processes. From our perspective, integration and all those merger plans are on track.
What do you think of the Social Housing White Paper?
I think, for me, the focus around Eastlight is on the fact that we're a community gateway organisation – that is exceptionally rare as there are only six of us in England. So we very much put residents' influence at our heart. So what's coming out of the white paper is very much in tune with our ethos and culture.
Residents have the opportunity to own a share, therefore they vote on the major strategic decisions for the organisation. Many of the principles that sit in the white paper, such as reviewing the consumer standards, we've always reviewed those in conjunction with our residents.
We've always applied the Freedom of Information principles. So it is very much aligned to the culture of our organisation, which means that we're more ready to receive some of that step change.
---
---
What did you think of the Spending Review?
Obviously we've had the Affordable Homes Programme launch, the £12.2bn launch previously, so there's big slugs of cash for the national Home Building Fund, and land assembly and infrastructure and housebuilding finance – so I guess that's quite skewed towards homebuilding and homeownership. It all adds to the mix. And I think, unsurprisingly, [chancellor] Rishi Sunak will be wanting to support the economy to get back on its feet.
I was particularly pleased to see new money for retrofitting social homes. That's because we surveyed our tenants over the summer, particularly around how COVID has affected them, and their top priority comes back to whole-cost affordability of their homes – so not just focused on rent but focused on the cost of living in their homes. So support for retrofitting homes supports our tenants' agenda.
What else came up in the consultation with tenants?
Loneliness. We've done some auxiliary support – we've contacted all our over-65s. But we now need to think about what the medium and long term looks like and how we might be able to support people.
Has COVID-19 had an impact on rent arrears?
No, not significantly for us. There has been a significant impact on the number of people that appear to be supported by Universal Credit, certainly. But in terms of our rent collection rate, they seem to be broadly consistent with where they were last year. I'm not sure that will be the final position – I do expect that as more redundancies kick in, arrears are likely to arise. So it's something that we do have our eye on.
What is your strategy for dealing with that if rent arrears do rise?
We always have an eye to not just our rent arrears levels but also our eviction numbers. So we keep those as low as possible.
We've got a tenancy sustainment team that has always been part of our housing management service, and what we will do is look to increase that resource to help support people – that early intervention to prevent long-term or high arrears. That has been traditionally quite successful for us. Our rent arrears are extremely low in comparison to many others in this sector: we run somewhere between 1% and 1.5% historically. So we do have an established and mature support network for people.
What future development plans does Eastlight have?
As part of our merger promises, we said we would increase our new supply, and we were able to do that because both legacy organisations came with a really healthy balance sheet. We have a business plan that programmes 750 homes a year for the first five years of the merger.
What we are keen to do is make that delivery programme more resilient. So the legacy organisations relied quite a lot on the delivery of homes through Section 106. As a larger organisation, we're able to consider a range of different ways to deliver that – so that will be through land-led development.
What are your plans for Christmas?
Probably the same as everybody else's, but just stay at home in small groups of people. It's not going to be very imaginative this year, is it?
I've got a seven-year-old who is looking forward to Father Christmas coming, so it will be special because I've got a young child.